"Which S-5! Standing Seam Clamp do I use on my metal roof?" Over the years we have received many questions about S-5! standing seam clamps and snow guards however that is the most common question.
First you need to determine what type of metal roof you have. S-5! Provides various solutions for all metal types and profiles. One of the S-5! clamp products will be suited to your standing seam (concealed fastened) metal roof. So which standing seam roof profile do you have? Let's take a look at how to make that determination.
What is a Standing Seam Metal Roof?
Standing seam metal roofs are simply roofs where the joint is standing up in a vertical position out of the plane of the water.
Seam Fasteners: These seam fasteners might be anywhere from 0.5 inches to 1.5 inches high. Because these fasteners are concealed, you only see a smooth continuous ridge extending from top to bottom.
Pre-formed vs. Site-formed: Roof panels can come either pre-formed or site-formed (JSM). Pre-formed panels are created in an off-site factory. Site-formed panels are created from rolls of metal that are run through mobile forming machines that crimp the metal into rigid panels.
Composition and Width of Panels: Panels tend to run 12 to 20 inches for residential and in some instances up to 42 inches on commercial buildings. Panels are usually made either of Galvalume-coated steel or aluminum.
Various ways to find the S-5! Standing Seam Clamp for your standing seam roof.
If you know the manufacturer, profile name and material thickness, this is the easiest way to determine which clamp was designed and tested on your specific roof profile. You can simply go to the "load test tables" (create a log-in) and search alphabetically by metal roof manufacturer. You will see the load test results for that profile along with the specific clamp model(s) that we have tested on it. If you have questions we have a technical support line that you can call at 888-825-3432 or email them at support@s-5.com.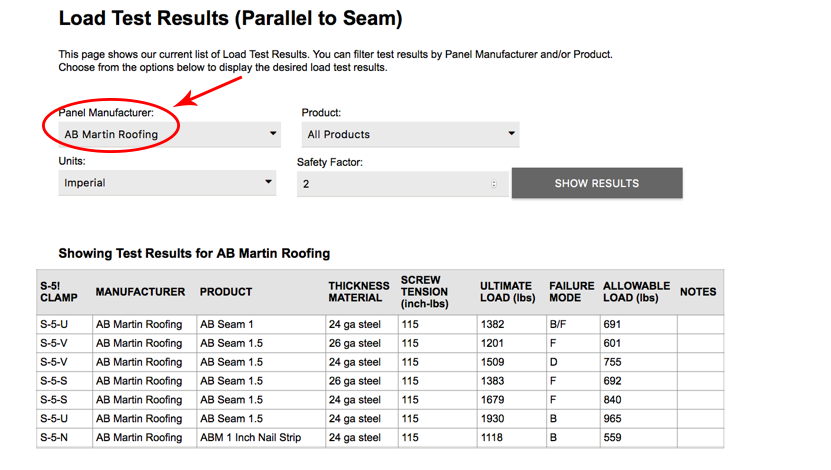 If you do not know the roof manufacturer and profile that's okay because S-5! provides you with our clamp- to-seam tool. If you are not an expert in metal roofing, this tool will help you become one. The Clamp-to-Seam Tool provides thumbnails of the most popular roofing profiles along with their dimensions and the clamps that will fit those profiles.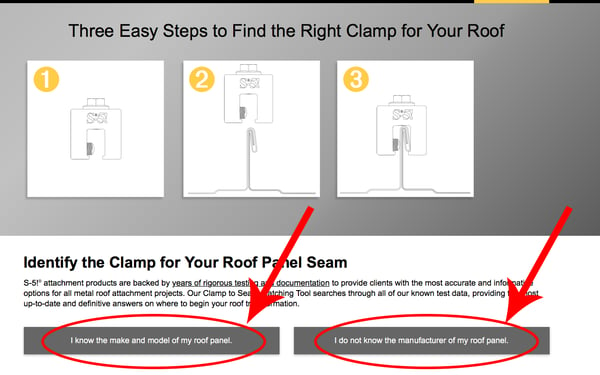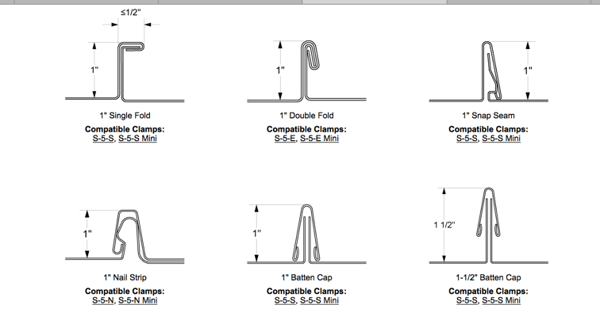 Sample Illustrations from Our Clamp-to-Seam Tool
3. Take a Photo of the Roof Profile:
Another option to identify your standing seam roof profile is to follow these steps:
With your camera phone take the photo from the eave edge of the roof where the gutter would be located
Include a tape measure in the photo so that we have a scale
Try to take the photo directly in line with an individual seam to provide the profile
Then also measure the seam spacing and include this information with your photos
See below for the correct way to take a photo. Once you have taken a photo you can share it with S-5! technical support at support@s-5.com. One of our techs will assist with choosing the best clamp and can usually identify the panel profile and often the roof manufacturer as well.
4. Sketch the Roof Out:
The final way you can identify the seam clamp is to sketch out the roof seam crossection and provide dimensions. See below for photo. Once you have sketched out the profile you can share it with S-5! Technical Support at support@s-5.com who will assist with choosing the best clamp and can usually identify the panel profile and often the roof manufacturer as well.
Still not sure?
Understanding which S-5! Standing Seam Clamp fits your standing seam profile can sometimes feel like a task for some. Certain profiles such as the popular "Nail Flange or Nail Strip" can be a little tricky. If you know you have one of these types of metal roofs we recommend sending us a picture or the metal roof manufacturer's name in order to make sure you are receiving the proper clamp.
You can always reach out to Sky Products via our website at www.design.localadpower.com/SkyProducts-v3/wp-old or request a quote online
Through testing and engineering, S-5!'s unique attachment products have revolutionized the metal roofing industry. We consistently exceed customer expectations by delivering unprecedented value and innovative excellence in the metal construction marketplace.